The Soteria™ Bed Barrier is a breathable mattress and bed deck barrier with a simple, CDC-compliant disinfection and laundering protocol. It is applied to a patient bed immediately before patient admission and removed immediately after discharge. Instructions for use include application and removal procedures, laundering requirements, and inspection and repair instructions. Each barrier is uniquely barcoded for tracking, inspection and documentation, and can be reused up to 150 times.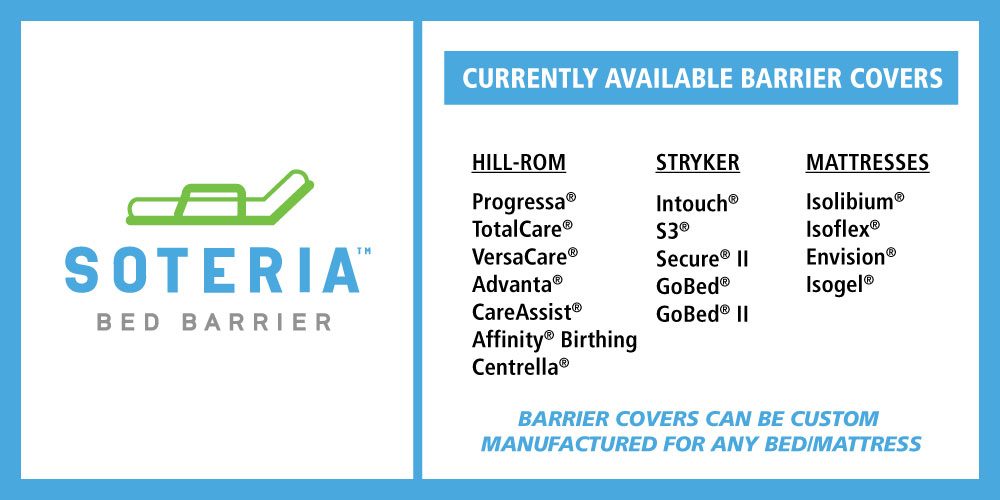 Soteria Bed Barriers are available for most major brands,
including the newest therapeutic beds and mattresses.
Key features and benefits of Soteria™ products:
System components (mattress/bed deck barrier, pillowcase) are made of a high-tech breathable microbarrier fabric that blocks fluid, soils and microbes from passing through in either direction. Each new patient in the bed is protected from all previous patients.

The microbarrier textile allows moisture transfer and does not impede therapeutic support surface characteristics.

The Soteria instructions for use (IFU) require a simple disinfection process: 90-second removal of used bed barrier; soap-and-water wash and dry of mattress and bed deck; 90-second application of clean barrier. The personnel training required to adapt to the new process is minimal.

Each barrier system is warranted for 150 high-heat, CDC intensive launderings, making it practical and cost-effective.

The Soteria barriers are laundered between patients by a healthcare laundry service using chlorine bleach and high temperatures. The disinfection and inspection processes are consistent and repeatable.

Each bed barrier can be laundered up to 150 times and laundering cost is about $5. This is far less than the cost associated with current cleaning, disinfection and inspection requirements and the cost of more frequent mattress and skin replacements.

Each Soteria barrier product is manufactured with its own unique barcode identifier, so tracking and inspection is easy. Inspection is performed during the laundry process.

Turning over a patient bed with the Soteria process is simple, fast, and more consistent and effective than the current manual wipe-down process.
We continue to develop new models of our bed and patient support surface barriers to provide healthcare facilities with a full complement of practical bed disinfection tools.